Career Insights: Photography and Wedding Planners
Overview
Craig Paulson, a photographer who has been in business in NYC for 15 years, talks about the importance of working with planners as well as guests while shooting a wedding. He discusses mistakes young planners often make, the importance of viewing your surroundings and assessing the mood, as well as working with time constraints. He also describes the proper way to communicate with planners, clients, and guests, and how to deal with those pesky camera phones.
Learning Outcomes
Don't hover. You wind up in the shots. Let the event breathe. Don't be too rigid with the timeline if it comes at the expense of memorable moments. "Respect the moment."
Don't impart negative body language, which people pick up on. E.g.: Bride shouldn't see planner tapping her watch, or anxious about logistics. The best planners are not noticed.
How to deal with situation when photographer has wrangled bridal party, family, etc. but guests are taking photos of them too, distracting the subjects, and diverting their eye contact with photographer. Solution: photographer should say, "I'm going to give everyone 5 seconds to get your photos, then I need everyone to put the phones down so I can get my shots." Or planner can say that. Need all guests' eyes on camera.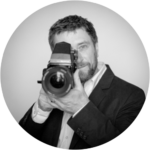 Craig Paulson
Craig Paulson, principal photographer and owner of the studio, is a multi-award-winning photographer. Based in New York City, Craig has over 25 years of experience in the photography industry. Whilst living in London, Paris, Amsterdam, Switzerland and India, he worked in fashion and advertising for over 10 years before setting up his wedding business in 2001
Craig, a native Australian, has shot more than 900 weddings in the US, Europe, Australia, the Caribbean and the Americas.
View Instructor's Profile