How to Book Speakers Like a Pro
Overview
Speakers can be the second highest budget item after venues, and are crucial to drawing attendance. There are more speakers than ever with more places to find them, lower budgets and shorter lead times. Decision makers are demanding financial justifications for hiring speakers as never before. Understanding today's evolving speaker marketplace, how to search for, negotiate with and prepare speakers are critical to making the best choice.
Learn insider strategies from someone who has booked hundreds of speakers and is constantly reviewing talent. Find out how to plan your search, judge a speaker's suitability, guide the decision-making process internally and minimize your risks. And learn the crucial steps to maximize their performance once speakers are booked.
Filmed on location at 24 Fifth Banquet Facility, courtesy of the Glazier Group.
Learning Outcomes
Understand today's speaker marketplace, who you can get for your budget
Understand the Pros and Cons of major types of speaker suppliers/achieving the right mix
Have the ability to determine the best ways to judge a speaker's fit for your event
Learn tips for negotiating with your speaker.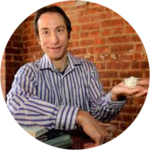 Mike Taubleb
Mike Taubleb owns Promenade Speaker's Bureau, a New York-based broker of professional speakers and trainers. His roles include speaker negotiations, recruitment and management as well as sales and marketing. Promenade is recognized for thorough research and non-biased, strategically sound recommendations.
Promenade's clients include many Fortune 500 firms, national trade associations, smaller firms and colleges around the country. Mike has booked prominent talent in politics, business, futurism and innovation. Promenade specializes in healthcare, insurance and financial services.
Mike has presented for Meeting Professionals International and ASTD members about the speaking industry. Mike and his speakers have been quoted in Successful Meetings and Investors Business Daily. The New York Daily News profiled his business in early 2010. Promenade is a member of the International Association of Speaker Bureaus. Speaker Insights, his monthly e-newsletter has over 1,400 subscribers.
View Instructor's Profile