Hybrid & Virtual Event Director (HVED-FA22) | Start Date Sept 13, 2022
This course closed on 12/18/2022.
Welcome to the Hybrid & Virtual Event Director Certificate Course!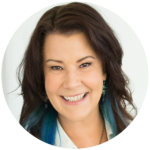 Heather Sharpe
Heather Sharpe is a multi-award-winning Event Producer and Marketer with many years of experience leading corporate and community strategic initiatives. She has twice produced the largest public event in BC (Honda Celebration of Light 2014 & 2015) as well as the largest New Year's Eve event in Canada (Vancouver 2015).
Recently she has transitioned to Event Technologist supporting not-for-profits to national political parties with their virtual programs. Heather excels at the specific techniques required to create engaging digital content, work with technical support and live streaming partners and to call broadcast level productions.
Heather Sharpe serves as Sherpa Group Events' Event Producer, Digital Marketing Expert and The Event Coach. She has served as an Instructor for the Event Management and Promotions program at the Centre for Arts and Technology Okanagan and regularly speaks to industry organizations and writes for event publications.
View Instructor's Profile