Mark Herrera of IAVM: Venue Ventilation
Overview
As we get more and more data around COVID-19 and the safety picture becomes more focused, several basics remain true: transmission relates to guest behavior and the environment within which they meet.
Since indoor venues still remain the predominant environment for meetings and events, it is critical to understand not only what you must consider for safe meetings and events, but to know the latest technologies that can help keep your guests and staff safe while conducting business during the pandemic.
ELI sits down with Mark Herrera of the International Association of Venue Managers (IAVM) to discuss how to improve the safety of gatherings in venues.
Learning Outcomes
What we've learned to date about what is and isn't adding safety inside venues

The top areas of focus planners should be concerned about as they relate to venue

Getting versed in venue ventilation systems

Safety practicality of different types of spaces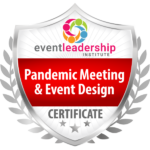 This on-demand course is just the beginning to re-evaluate, re-think, prepare modified on-site event strategy, design, execution, and evaluation. We've developed Pandemic Meeting & Event Design, an entire online certificate course — eligible for 20 CMP hours too! — designed to help planners develop and design well-informed, future-forward events. Develop a clear thought process to find the answers for your organization, clients, and attendees in our next course starting soon!