Q&A: Corinne Kessel CSEP, Greenscape Design & Décor
Overview
In this Event Leader Q&A webinar, Corinne Kessel, Principal and Owner of Greenscape Design and Decor shares her insight into event design using greenery. Corinne shares tips for how to use greenery throughout an event, opens up about owning her own business, and more.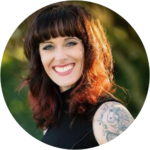 Corinne Kessel, CSEP
Corinne Kessel is the proud owner and Principal of Greenscape since 2007. She started with the company in 2004 and held a variety of roles: Design Consultant, Senior Design Consultant, Sales Manager, and Operations Manager. Her greatest accomplishment has been surrounding herself with an inspiring, talented, and dedicated team of people at Greenscape that care about the clients and the company as much as she does.
As well a being an Artistic Associate for November Theatre, Corinne is the President for ISES Vancouver, an Event Coordinator for the BCSCA, performs regularly with her band, Los Furios, and even sleeps on occasion. Possessing a unique blend of creativity, innovation, leadership, and project management experience, Corinne ensures that your projects will "rock" but also be on time and on budget.
View Instructor's Profile