The Metaverse Deconstructed: Event Applications & Best Practices
Once home to scientists in Sci-Fi or Superhero movies, the Metaverse brings a new level of mesmerizing your audience through stunning audiovisual experiences. 20 year virtual reality veteran, Danny Stefanic, CEO | MootUp, dissects the world of immersive virtual conferences, with a deep dive into the Metaverse and its uses and applications for your events and your clients.
[In Development]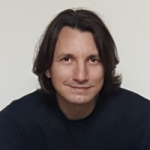 Danny Stefanic
Danny Stefanic is CEO and Founder of MootUp – the 3D Metaverse Virtual Events Platform. He is renowned for creating the world's first metaverse and is considered a pioneer in the Metaverse for Business field, having been involved in the creation of ground-breaking 3D businesses for over 27 years. He is also the founder of the world's first WebXR learning experience platform, LearnBrite, and founder of 3D internet company ExitReality Inc – the world's first web metaverse. On top of his corporate roles, he has assisted companies with angel investment, international licensing, acquisitions, exits, managing distributed teams and has personally closed IP acquisitions valued at $85MM.
View Instructor's Profile
This course does not have any sections.