Your Story Blog Series: Mia Monroe
This blog is the first in the Event Leadership Institute's new blog series called Your Story. Each Your Story blog will feature an insightful interview with an event leader about their challenges, triumphs, and career experiences.
While going into the field of events is a dream career for many, some top-notch event professionals just happen to fall into the role. That's the case with Mia Monroe, CSEP, CGMP, CMP, Conference and Event Manager at All Points Logistics/ NASA-Johnson Space Center.
Mia stumbled into her events career while pursuing what she thought would be her future career. "I was studying to become a sports agent during undergrad, but had to produce halftime shows and other sporting events for school during my studies. I loved my experiences so much, I just kept going in the event management direction," Mia shares.
While it quickly became clear to Mia that she loved the aspect of her education that allowed her to plan events, that didn't mean she didn't recognize she had work to do and improvements to make. During her first years in the industry, Mia shared that some of her biggest challenges were, "Details…if you can believe it! I was horrible at capturing the details! I started out as a planner for the first four years of my career and I was mediocre, at best. I just had a drive and desire to learn and excel."
It's clear that despite the challenges she faced at the start of her career, Mia persevered, demonstrating how focus, the right attitude and a willingness to learn can help you strengthen your weaknesses and become a leader in an industry. Today, not only is Mia equipped with her Bachelor of Science in Sports Management from Winston-Salem State University, she also has a Professional Certificate in Events Management and Masters of Tourism Administration in Sport and Event Management from The George Washington University.
Mia shares, "I found one of the best academic programs in event management and picked up a Master's degree from them, I volunteered to get more experience and I worked as an onsite coordinator for a high-profile venue in the city where the entire job was about event details and logistics. I had to learn to speak the language of production and AV professionals, caterers, designers and so forth. This is where I really learned about space allocation and crowd management, floor plans and set-ups, lighting, and power. It was all engrained in my brain because I was doing it all day, every day for a few years! I also learned about facility management and operations because I was scheduling HVAC, coordinating parking and security, working with housekeeping and maintenance to preserve the facility, etc. I learned about permitting and insurance because I was advising clients about our policies. THAT was the best experience that I could have ever had because I learned about events from EVERY angle – not just the planner's angle."
Mia also faced struggles that many women and men with children in the industry face as she began to advance in her career. "Honestly, being a single mom in this industry working at a pretty advanced level is something that challenges me every day. The job has its own challenges, but we can usually find solutions and keep moving. However, there are times when I have to make decisions in my professional life that have a resounding impact on my personal life and it's tough to get around. I wrestle with that more often than I care to mention. I'm still trying to figure out some kind of balance. I'm not there yet, but in the meantime, my daughter gets to have some pretty cool experiences at a young age."
Despite these challenges, Mia says that she loves her career for the excitement it brings, "No day is ever the same, especially during a high-event season. I LOVE complex logistical challenges and figuring out workarounds that are cost-effective, but that still provide a strong impact for the event and its stakeholders."
When asked what she believes is her greatest success so far in her career, Mia shares, "I think I am most proud of being a connector of people within the industry. I truly appreciate the relationships I have developed throughout the years, so I value them greatly. I have been able to pay things forward by successfully referring colleagues to positions and helping to mentor as I continue to be mentored. None of us got to where we are all by ourselves, nor will we continue to excel by ourselves."
It's clear that no matter how you come into the field of events, the ability to learn, recognize the importance of educating yourself and give back are three of the biggest keys to success.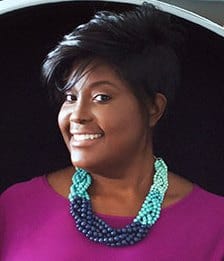 Mia Monroe
Mia Monroe is an award-winning certified special event, meeting and government meeting professional, speaker, author of trade articles and the conference and event manager for NASA Johnson Space Center's Human Health and Institutional Management contract with Florida-based All Points, LLC.
Mia brings over 18 years of professional experience in the events and hospitality industry with a Masters of Tourism Administration from George Washington University, actively serves as co-chair of the George Washington University Alumni Association- Houston Chapter and is a member of Society for Government Meeting Professionals.
Follow Mia on LinkedIn