Recently two of ELI's professors, Kevin White & Brandt Krueger went to Turkmenistan to teach event management.  Read about their experience below!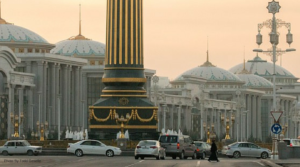 Howard Givner: Tell us about the audience. What types of events did they (want to) do?  What types of jobs did they have?
Kevin White: The audience was made up of various government ministers.  Not cabinet level, but lower.  We heard ministries listed as Cultural Affairs, Tourism, Finance.  But there were probably 6-7 of them in total.  There was also a member of parliament there.
We never got a great idea of the types of events they do.  Some fairs.  Some tradeshows.  Some conferences.
Brandt Krueger: There were representatives from the Ministry of Tourism and the Ministry of Culture.  Because the event was being held at University, there were also a few academics in the crowd.  The seminar was specifically designed around the planning and execution of "large scale" events- so, sporting events, large conventions, etc.
HG: Talk about the language barrier. Was it hard to speak with an interpreter?
KW: Turkmenistan has two languages, Turkmen and Russian.  Last time they hosted a group like this, they talked in Russian and that made it hard for many in the audience to understand – easier for the interpreters.  This time around, the interpreters REALLY needed to work as they did Turkmen to English.  And if you know anything about that language, its about three times the length of English.  So it also made it very difficult for the presenters not to race ahead of the interpreters.  It was simultaneous-ish.
BK: It was a lot harder than I thought it was going to be. They warned us a little bit about it, and I did a little research on my own.  The trick is to keep your sentences short and sweet, but the temptation is to just talk slower. The problem is most languages don't have the same sentence structure as English, so it's better to complete an entire thought and then wait for the translator to reorganize it and catch up.  I was really worried about the technical nature of my portions the agenda, but the translators requested advanced outlines of the material, and it clearly studied up on it. They were great!
HG: What were the most common types of questions?
KW: There were, like a standard conference room, three or four people out of the group who simply dominated the conversations.  And we didnt really get questions until Day 4 of 5.  Some questions related to the upcoming 2017 Asian Games they are hosting and how they can turn that experience into marketing opportunities.  Some questions related to public events.  One, which struck me as sneaky, asked me to describe, in great detail, a marketing plan for the Games. I declined but said they could pay me to develop that.  The opening question was somewhat hilarious.  Part 1 was asking about marketing and the Olympics while Part 2 was "Tell us about your family."


HG: Were there any elements that were a challenge to translate for the audience? For example, what's called a Teleprompter in the US is called an Autocue in the UK.  Anything that they didn't have a frame of reference for?
KW: The interpreters did a good job of hounding us for the presentations days in advance so they could look elements up and understand them and describe them if there wasnt a term for it in the native tongue.  We did an awful job of being ready for them each day as we constantly changed slides.  I would say there might have been 4-5 instances where the interpreter had to ask us what we mean by something.  We started off with the various meanings of Media in events.
BK: The translators had done some research, sometimes using Turkmen words for things that had a translation, other times using the English words and then explaining what they were.  It's worth noting that the majority of the audience, being government officials, were unlikely to have anything to do with the actual planning of events, so it wasn't all that necessary for us to go into great detail, only to give the broad strokes of what goes into planning large scale events, and all the various pieces of the puzzle that go into them, for their general knowledge.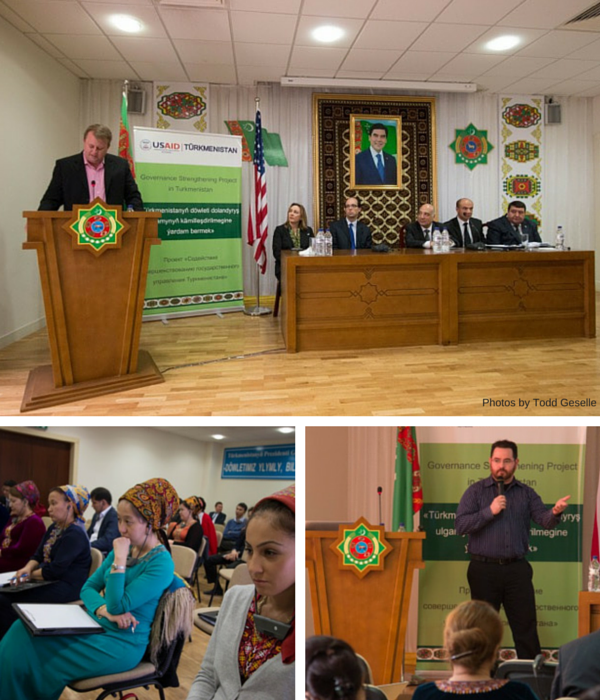 HG: If one of your industry colleagues had to produce an event in Turkmenistan, what advice would you give them?
KW: Start in Turkey for suppliers!  They are a very traditional culture.  Learn about it before planning.
HG: Are there any local, religious, or other customs that event professionals there have to take into consideration?
KW: The society had been a very closed society up to 30 years ago.  Media is hyper controlled and people dont offer their opinions up much in mixed company.  Men in suits.  Women in long skirts and headwraps.  SOME modern dress, but the traditional culture, especially among students and the government is very prevalent.
HG: Most Americans have not been to Turkmenistan.  How would you describe the capital city of Ashgabat? Did it remind you of any other places you've been?
BK: I think it could be a great place for an event, but much like a lot of places in the world, you have to know what you're getting into.  It has a lot of good things going for it. First of all it makes a great central meeting point between Europe, Russia, China, Japan and other APAC countries.  Next, it's one of the most stable countries in the region, with a strong military and no allegiance to any of the other troubled countries in the neighborhood (The boarder with Iran is only 20 miles away from Ashgabat).  They clearly want to join Dubai in being a destination for the world's meeting and tourism industry, and have been putting billions of dollars into infrastructure, including brand-new five star hotels and conference centers, and are completely rebuilding the Ashgabat airport.  They've even been building a multi-billion dollar resort city on the Caspian sea, which has already opened some of it's resort hotels.  The exchange rates are currently extremely favorable to Euros and Dollars right now, making it a very inexpensive destination compared to many.
The city of Ashgabat itself is simply beautiful, with the majority of the new sections of the city being built out of white marble.  They are very intentionally making that part of their "brand".  White marble and polished brass everywhere, including many of their newer high rise apartment buildings.  At night, the city actually reminded you of another city in a desert: Las Vegas.  Everything was lit up at night, and left on almost all night, in bright, sometimes changing colors.  All of the newer roads were lit with streetlamps in almost absurdly short intervals, ensuring bright even lighting, in even the more remote portions of the new parts of the city.
Most of the potential downsides are only downsides depending on your point of view.  For example, it's a highly regulated society, with large amounts of police and military personnel around at all times.  This could be intimidating for some, but at the same time also makes you feel very safe to have "a cop on every corner".  Likewise, the city of Ashgabat basically closes at 11pm.  For some, that might actually be a benefit for their meeting, ensuring nobody's going to get in to any late night trouble.  Alcohol is available at most restaurants, and there are bars and pubs, but it's made fairly clear that public drunkenness is unacceptable.
But there are a few things that they're going to have to make decisions about if they want to attract more international visitors.  For example, much like China, there are restrictions as to what websites you can and can't get to on the Internet. For a tech savvy audience, or a heavily social media engaged crowd, this could be a dealbreaker, but that hasn't stop China from becoming a major player in the tourism industry, so it is possible.  Likewise, I've heard from many fronts that it can be very difficult to obtain visas to visit the country, something we even experienced some difficulty with. They're going to have to sort that out if they want to have more tourism, meetings, and conferences.
HG: What were some of the food and drink highlights?
KW: You like kabobs? Grilled meats and various fried dumpling style dishes were just fantastic.  It was fun exploring the food there.  But once you got the gist of it, the fun came in judging their version of our staples (burgers, pizza etc.).  Needless to say, I am happy living stateside.
BK: I didn't have a single thing to eat that I didn't thoroughly enjoy, but I'm a big fan of Mediterranean and Middle Eastern food.  A highlight was probably our dinner at a restaurant that had private Turkish yurts, which is a kind of round canvas and wood tent. It was far from rustic though- it was rainy and cold outside, and the yurt was heated and well lit. It even had an HDTV hung on the wall.  But we sat on the floor on cushions and rugs, and had just this amazing, fantastic dinner.  A perfect end to a very long day!
HG: Describe some of the cool sites you saw.
KW: Our very first moment in Ashgabat was surreal.  Surreal to a scary degree.  The entire place was embanked in fog, save for the mountains that border Iran.  We saw a sunrise peaking over the horizon, the mountains on one side and then a sea of fog.  And I am talking about miles and miles of it.  Our hotel was on a hill, so we were above it all but you wondered, "What could possibly be out there."  Moment by moment, the fog lowered.  By midday, the city was revealed and the large plains behind it.  I'll never forget that.  That and the Palace of Happiness.  A $2,000,000,000 building where people get registered to marry that is, you guessed it, covered in LED lights.  The rest of the city is just white marble buildings trying to be as majestic as possible in an awkward way.
BK: Like I mentioned before the city itself is something to behold, but there are monuments and statues all around. That's another thing you have to watch out for when you're there- not everything is allowed to be photographed and it's not always clear what you can and can't take pictures of. But we found as long as we were respectful, and asked politely whether or not we could take a picture of something, we were fine.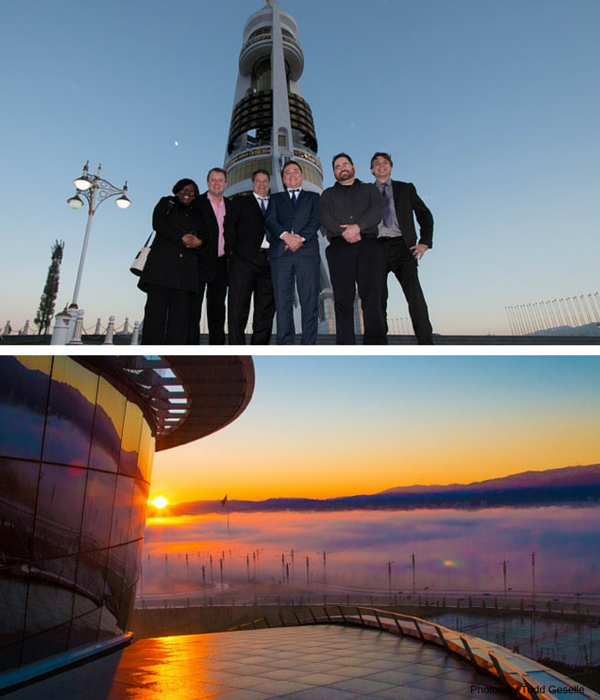 HG: Anything else you'd like to share?
KW: The experience was amazing from simply a curiosity stand point.  This is a society and culture that has been smothered by the Soviet Union and is now finding its way.  Its first post-Soviet ruler had eight statues of gold built honoring himself.  The second ruler is a bit more democratic, but not much more.  This is a country trying to find itself.  It is a country that is half authentic, half Soviet paranoid.  And they are trying to bring in the world through events.  They see the ultimate power of live experiences.  Tradeshows for business.  Conferences for learning.  Events for marketing and community building.  Now, maybe its an ego thing for them and large events feed the ego.  But the effects of bringing in events will be HUGE for them.  I'm just sad we never saw the rock band "that sings all covers in English!"  I wish all of our friends there future success.
BK: Turkmenistan will be a country to watch in the coming years to see if they can succeed in their desire to become a worldwide destination.  They're smart to want to enter the multibillion-dollar meetings and tourism industries, but as with all destinations they're going to have to find a balance between their own cultural and societal norms, and the desires, wants, and needs of a global audience.  For the right group, Turkmenistan has the makings of a world class destination.