Alternative Projection Shapes and Surfaces
Overview
This class counts for .25 CMP Continuing Education credits. CMP Blueprint Section: Meeting or Event Design.
Rectangular projection screens are so . . . square. Add some creative punch to your next event and lose the corners. In this class, Brandt Krueger will show you how to easily create Powerpoint or Keynote presentations to suit circular screens, or any other shapes for that matter, where to get them, and other tips for taking the visual messaging of your event to the next level.
Learning Outcomes
Learn how to create slide templates for circular projection screens.
Discover other out-of-the-box solutions for visually displaying event information via projection.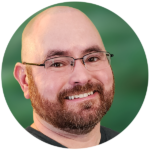 Brandt Krueger
As a first generation personal computer user since the age of 6, technology is part of Brandt's DNA. Combine that DNA with a degree in Technical Theatre and a core in Psychology, add in almost 20 years experience in the meetings and events industry, and you get a powerful event technology cocktail.
In addition to being published on numerous websites such as CorbinBall.com, EventManagerBlog.com, and the Convention Industry Council, he has landed articles in trade publications such as Meetings and Conventions Magazine and Insurance & Financial Meetings Management Magazine. He's spoken at various industry events such as Collinson Collaborate, BizBash's Elevate, MPI's World Education Congress, FICP's Education Forum, Event Camp (London, Chicago, and Middle East), and even a one week intensive for government ministers and guests on producing large scale events in Turkmenistan.
He currently teaches many public and private classes through the Event Leadership Institute, and is the owner of Event Technology Consulting, an appropriately named company that provides meeting and event technology consulting services.
View Instructor's Profile