New Business Models for the Events Industry
Forget the traditional one-off, in-person event. Welcome to a new world, where event organizers no longer see themselves as pure organizers; rather their role is to facilitate – business, connections, education and advocacy. Marco Giberti Marco Giberti, co-author of Reinventing Live takes you behind the scenes with his his views about the opportunities for event organizers leveraging technology and innovation and creating new business models for their events.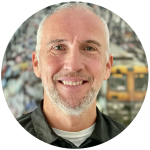 Marco Giberti
Marco is a successful entrepreneur and investor with over 25 years of intensive experience in media, technology, and the live events industry. He is the Founder and CEO of Vesuvio Ventures, where he works with startups, Venture and Private Equity investors, and corporate innovators serving as a coach, advisor, interim executive, board member, or angel investor (or a combination thereof). After several years in a successful career as a corporate executive at Apple, Marco pursued his entrepreneurial ambitions and became: • Co-founder and Board Member of Mind Opener, a leading publishing group in Latin America that was later sold to British Pearson Media Group, and • Co-founder and Board Member of e-mind, an internet and media communications company that was sold to Liberty Media.
View Instructor's Profile