Fairmont Austin: Pandemic Corporate Event Planning Insights
Overview
Hear examples, insights, and takeaways on what it takes to host social and corporate events and bring internal operations teams onboard in this on-demand course featuring Kevin White from the Event Leadership Institute and Adreanne Lewis, Director of Event Sales & Services at the Fairmont Austin.
Learning Outcomes
Effective methods for reimagining social and corporate event experiences

Smart and tested pandemic-event design ideas to adapt and evolve for future events

Strategies to re-educate and re-align internal operations teams with new protocols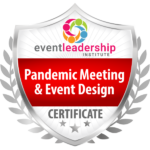 This on-demand course is just the beginning to re-evaluate, re-think, prepare modified on-site event strategy, design, execution, and evaluation. We've developed Pandemic Meeting & Event Design, an entire online certificate course — eligible for 20 CMP hours too! — designed to help planners develop and design well-informed, future-forward events. Develop a clear thought process to find the answers for your organization, clients, and attendees in our next course starting soon!