Using Empathy Mapping to Understand Audience Behavior
The ability to develop empathy is at the very foundation of design thinking, and the disciplines focused on customer experience design. Naomi Clare Crellin, Founder & CEO at StoryCraft Lab, will help you develop a deeper understanding of your audiences, and how you can create the best solutions to meet their needs.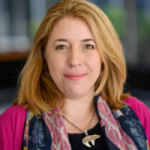 Naomi Clare Crellin
As Founder + CEO of Storycraft Lab, Naomi leads a team of innovative strategists as they distill intent and insights into actionable, accessible strategies and refine big ideas into experiences that are meaningful and measurable. She has developed empathy techniques that guide teams from strategic process through development to delivery. These include workshops like EmpathyPortraits and ScenarioBuilding, as well as the Experience Profiles™, a powerful tool for personalization. Leading with Empathy, Naomi works with teams to define their goals, refine their message, and measure the impact of the stories we craft. In a career that spans strategy, analysis, teaching and design, she has worked with a diverse array of organizations, causes and teams from Microsoft and Motorola, to Intel and the IFC, from Staples and the Smithsonian to NASA. Naomi is an empowering educator of curious creative minds and maker of meaning in experience strategy, which powers innovation for her clients.
View Instructor's Profile