The Results Are In! Average Score of ELI's Event Design Skills Quiz is 51%!
Do You Have What it Takes to become an Event Designer?
Over 1,000 People Take Event Leadership Institute's Design Quiz, Average Score is 51%
As event professionals, we'd like to say that we possess (naturally) an excellent sense of style, exhibit a certain amount of creativity and offer a solid understanding of design. We follow the latest trends, can identify couture by designer name, select furniture pieces to help make a venue feel more intimate, and know what colors work well together, and which do not. This should place us higher than the average professional, right? The hard truth of the matter is that being able to identify what looks good does not always translate into the ability to successfully plan or execute a design concept.
Last month the Event Leadership Institute created an online self-assessment test for event and meeting professionals to gauge their knowledge in the area of event design. 10 questions were pulled randomly from a bank of 25 so that the type and level of question would vary from one person to the next. Questions covered topics such as color palettes, floral arrangements, lighting, event staging, and design aesthetics for both social and corporate events. After three short weeks and more than 1,000 respondents later, the results are in.
THE SCORES
The average score was a 51 out of 100. More than 75 percent of participants scored between 30 and 70, while only ten percent scored 80 or above. Ouch.  While not every planner may possess the same caliber of skills as, say, David Stark, Colin Cowie or Preston Bailey, scoring below 60 percent is a pretty good indication that perhaps your client knows as much as you do, if not more!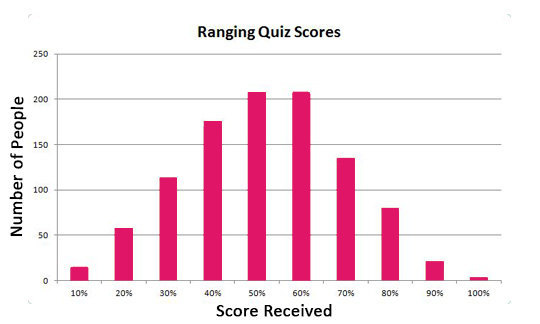 THE QUESTIONS
Questions with the lowest scores were those of a more technical nature; such as the appropriate size table or dance floor based on guest count, hanging heights for installations, space requirements needed for entry/exits, etc…  In fact, only about 20% of respondents knew the maximum height of a non-elevated floral arrangement. This is a top priority if you don't want your guests' view to be blocked, or worse, have them move the centerpieces entirely!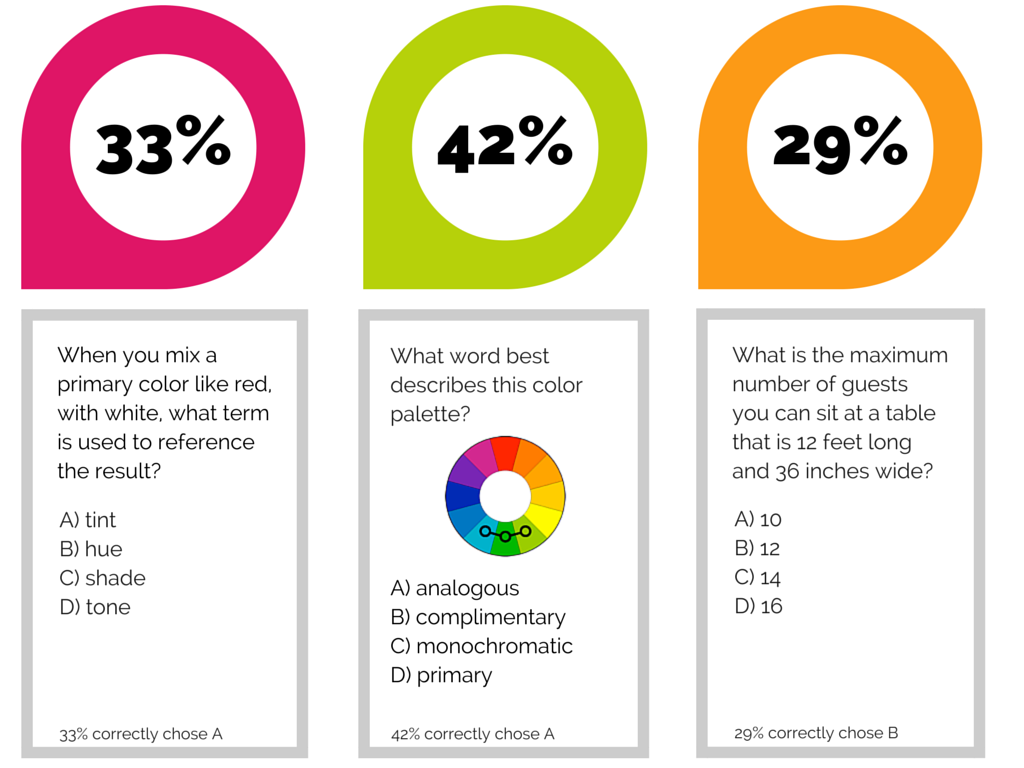 THE POINT?
While the online assessment scores are low, it clearly demonstrates that design goes much deeper than what can be found on Pinterest and Etsy. These are excellent places to look to for inspiration; however producing an aesthetically pleasing event that impresses seen-it-all attendees requires more. Today's designers are expected to incorporate food and beverage, technology, branding into their events, while finding innovative ways to create unique focal points and floral designs all within budget. Could this be a daunting task? Yes. Impossible? Not with the right education, tools and training.
THE SOLUTION
As professionals gradually realize the importance (and challenges) of effective event design, the Event Leadership Institute saw this as an opportunity to provide a means of evaluating their skill level and training to expand knowledge.  As such, this Spring ELI will offer an 8-week Wedding & Event Design course, held both online and in-person.  The online course will start April 13th taught by Lindsay Landman, while the in-person session will begin April 28th in Chicago taught by Erin McDonald. If you're an event planner looking to push the boundaries of your business and career, this is definitely a great place to start.