The medical meeting-planning environment is very different from what it was two years ago. New complications and stressors make planners' jobs more difficult than ever before, and HCPs are not only short on time but burned out by the pandemic.
Join our next webinar, "What's Trending in Medical Meetings," to hear innovative ideas from a diverse panel of speakers.
You'll gain insights into the latest strategies to engage healthcare audiences in person and how to navigate the increasingly complex budget and cost implications of today's events.
Learning Outcomes:
Identify

how to get HCPs excited about in-person events again

Understand

doctors' expectations of medical meetings post-pandemic

Discover

the role of hyper-local marketing strategies – with creative examples of how it's working in healthcare

Define

clear values for networking and educational opportunities in a transparent way

Yield more meaningful engagement metrics by engineering content
Adapt

to

new budget tactics and forms of technology to identify value for key stakeholders and attendees
Wednesday, July 20, 2022
3:00 - 4:30 PM ET | 12:00-1:30 PM PT
Register now for our FREE webinar!
Accessibility for this Webinar
The Event Leadership Institute is committed to learning how to improve our events and technology platform to be more digitally accessible and inclusive to the broadest possible audience.
We are diligently working internally and with our partners and technology providers to actively develop a more accessible experience.
If you need any assistance with captioning, engaging, or accessing resources, please contact us:
US & International: + 1 (347) 349-1060
Toll-Free US & Canada: + 1 (866) 349-1060
Email: info@eventleadershipinstitute.com
While we will do our best to accommodate requests, please note that it may not always be possible to do so for all content or areas of the webinar. We are committed to working together to find a solution as needed.
Jody Brandes, HMCC, CMP-Fellow, CMM | Group Manager | Strategic Event Services | Genentech, Inc.
Chris Bryant | Vice President of Analytics & Insights Management | Array®
Natalie Marchbanks | Account Executive | Craftsmen Industries
Dr. Mark Rowe | Family Physician & Founder | Waterford Health Park
Michael Varlotta, HMCC | President | MLVII Associates  | Former Senior Director Commercial Operations & Senior Director of Medical Education | Johnson & Johnson 
MODERATOR: Pat Schaumann, CMP, CSEP, DMCP, HMCC | Director, Life Science Development | McVeigh Global Meetings & Events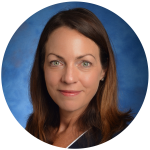 MODERATOR: Tammy Kockaya, CMP, CMM | Chief Strategy & Growth Officer |Event Leadership Institute