ELI Virtual Event Profile: Michelle Brown, Project Management Institute
Project Management Institute (PMI) is an association with more than 625,000 members and one million active Project Management Professional (PMP)® certification holders around the globe. Members are project management professionals working in various industries, including IT, financial services, healthcare, and consulting.
When COVID-19 hit, PMI canceled all live events and developed a Plan B to continue providing educational content and experiences to members.
The organization quickly pulled together a team of event planners (who were traditionally focused on live events) to pivot and create a series of virtual events for the global membership, said Michelle Brown, PMI Product Manager, Events.
After only a few weeks of strategizing, planning, and lots of caffeine, the PMI Virtual Experience Series was born.
Developing the Event Plan
"Our goals were to create a series of monthly virtual experiences to keep our global community engaged and allow them to continue learning in this virtual environment," said Michelle.
"In a matter of weeks, we launched the PMI Virtual Experience Series," explained Michelle. "The seven monthly virtual events were designed to inspire, entertain, and engage our virtual audience, while giving them the education and best practices they need to be successful in their jobs."
The monthly events were planned for the balance of 2020, from June through December. For three legacy events that PMI had offered for years, members attended for free. The four new events were offered to members and non-members, with members receiving discounted pricing.
Format & Technology Platforms
After researching several virtual event platforms, PMI selected Intrado to power these virtual events. The platform was familiar to PMI as the organization had used Intrado for other virtual events in the past. In addition, PMI was able to create a customized virtual experience on the platform using new graphics and backgrounds.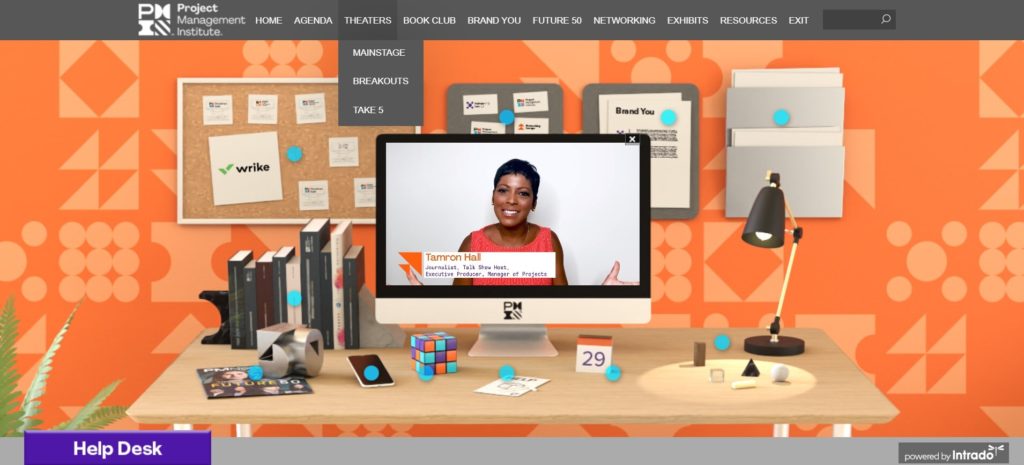 "We really wanted these to be memorable and inspiring experiences, and not just typical virtual events," shared Michelle. "All work and no play is a great way to lose audiences, so we also provided fun activities using technology partners such as a virtual selfie bar through SnapBar and a Take 5 Theater, where participants could relax and watch live puppy feeds, aquariums, or beach scenes to help with screen fatigue. We also partnered with DAHLIA+AGENCY to create a Brand YOU Center featuring sessions focused on career resources and advancement."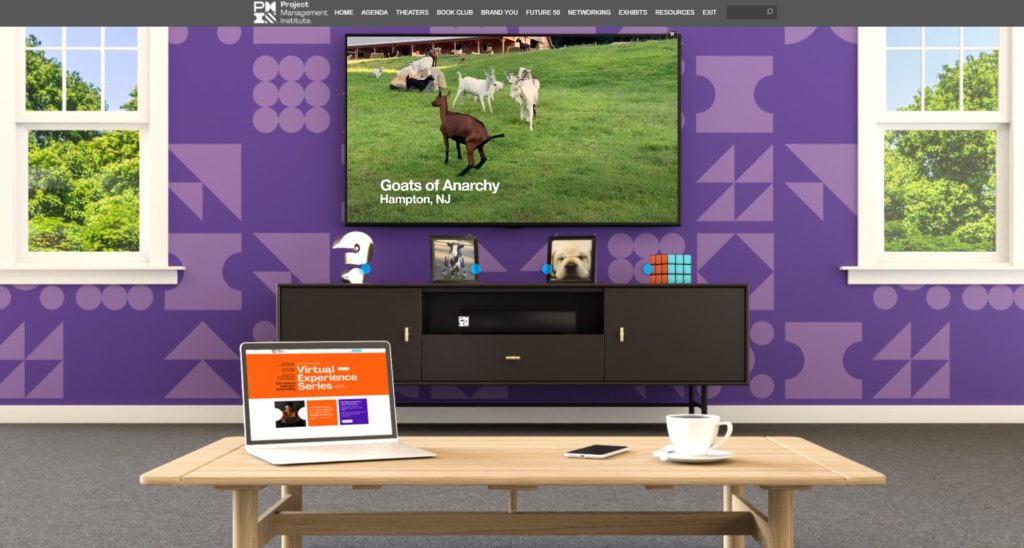 Agenda & Scheduling
Each monthly virtual event featured diverse content and a variety of formats to hold attention and encourage engagement:
Keynotes from main-stage speakers included celebrities such as Trevor Noah, José Andrés, Alexis Ohanian, Malala Yousafzai, Katie Sowers and Craig O'Shannessy.
A Book Club segment put the spotlight on conversations with featured authors such as Priya Parker ("The Art of Gathering") and Dr. Rana el Kaliouby ("Girl Decoded"). These insightful conversations were led by Bob Safian, former editor-in-chief of Fast Company.
20+ concurrent breakout sessions focused on leadership skills, career tips and advice, and best practices from project professionals around the world.
Live Q&A with speakers plus live networking sessions (called "Ask Me Anything") with members of PMI's Board of Directors and other industry leaders furthered audience engagement.
All events averaged 5 hours in length, with 35-minute sessions and 5- to 15-minute breaks between sessions for participants to take a quick break, grab a coffee, experience the exhibit hall, and check out all the other great activities.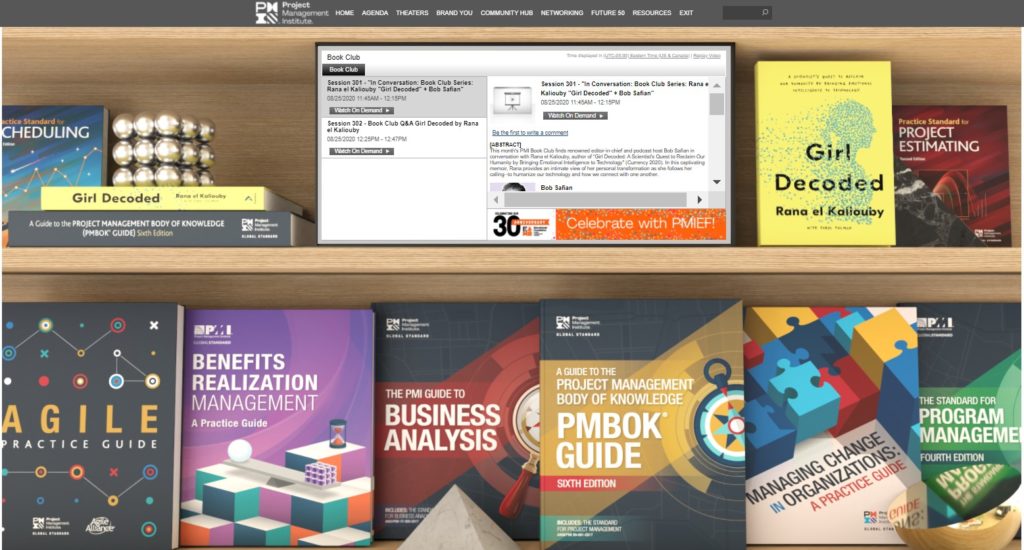 Audience Engagement
"We didn't want our virtual experiences to simply replicate a conference center or ballroom, even though we are excited to host our in-person meetings again," said Michelle. "Instead, we wanted to design a virtual experience that was in tune with our current reality – working out of our home offices. So, we literally rebuilt and enhanced the platform each month to redesign the virtual experience."
In July, the "home page" looked like a home office. When some attendees started heading back to their offices, the home page became an office building. Toward the end of 2020, the home page featured a cityscape showing the global reach of the project management profession.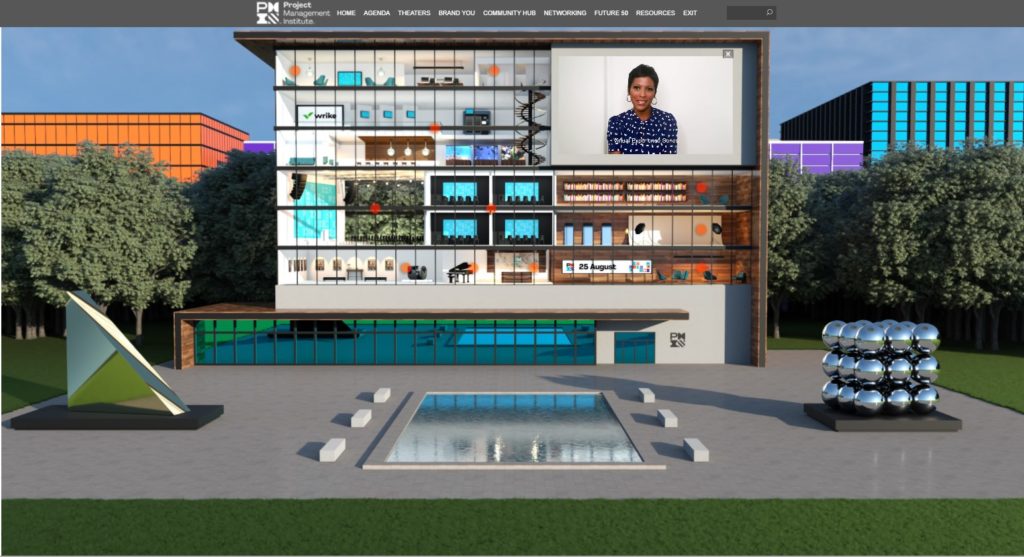 "As our reality kept changing throughout 2020, our virtual experience continued to evolve. We accomplished that through the platform's design and all the features and functionality that are part of the experience," Michelle continued.
PMI also offered after-hours activities each month for participants to unwind after a long day of learning and networking. Fun activities such as dueling pianos (where participants could watch live and provide their song suggestions) and a beer tasting session were well received. After all, who doesn't want to unwind and have fun after a long day at the (home) office?
ROI
By mid-November, PMI's Virtual Experience Series had more than 22,000 unique registrants and 63,000 total registrations from 146 countries. This series enabled PMI to reach and engage more attendees, and new audiences, than in traditional in-person events.
Conclusion
"Virtual events are very different from in-person events, and you need a completely different strategy," said Michelle. "People's attention spans are not the same virtually – you need to create compelling content that helps them learn but also engages them." Her advice? "Think of fun ways to engage your audience, and don't be afraid to try new things!"
Michelle also explained PMI saw the development of this series as an opportunity to create virtual experiences for participants, not just virtual events where learning took place. "We spent a lot of time scoping out what each month would look like – in terms of navigation on the platform, in the exhibit hall, what participants would see and how they would get around their day."
Lastly, Michelle shared it was very effective to have one voice – a host – to help participants navigate the platform and the agenda. "We hired Television Host and Executive Producer Tamron Hall to fill this role. She was an amazing guide for participants to welcome them, get them excited for the day's activities, show them around the platform a bit, and get them engaged in the agenda." Michelle said, "I would highly recommend a host for your virtual events as this was the one constant through the entire experience."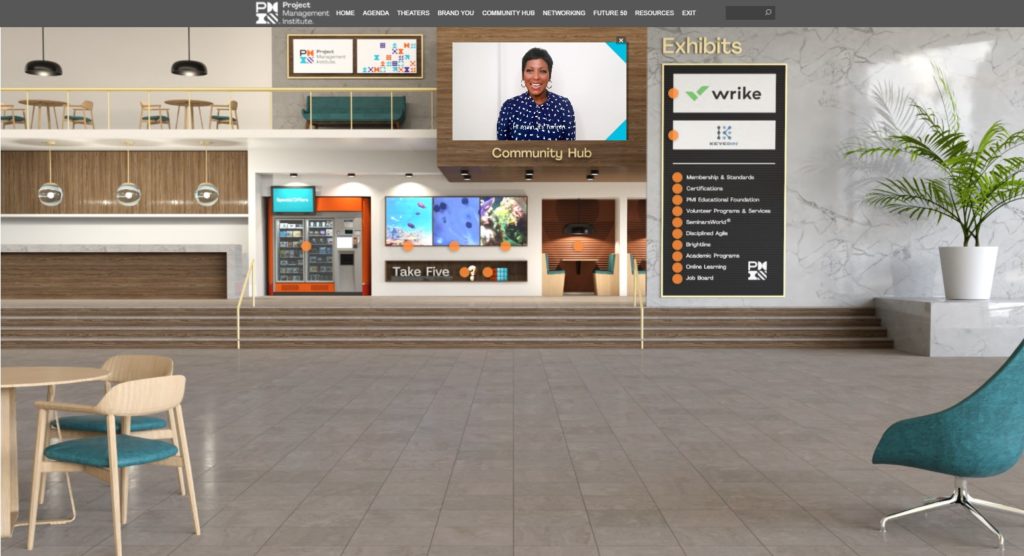 ---

Looking for more insights on how to successfully plan and produce virtual events? Join nearly 2,000 alumni who have become certified in Virtual Event and Meeting Management.
Interested in having your virtual event profiled by ELI? Share your story with us.